Regular price
$55.99 USD
Sale price
$32.97 USD
Unit price
per
Sale
Sold out
Smart Eggs™ - Montessori-inspired Educational Toy for Kids, the perfect educational toy for children!
This smart egg puzzle sorter and shape matching game is designed to help children develop their cognitive and problem-solving skills in a fun and engaging way.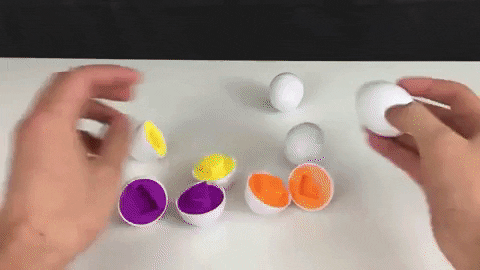 Early Learning Development
With six different colorful eggs and twelve unique shapes, this toy provides endless opportunities for children to explore and discover.
Did you know that 85% of the human brain develops by age 3?
Your child won't miss out on even 1% of that by playing with this toy. Because the world around us is made up of shapes and colors, we break them down into manageable chunks for our youngest children to learn.


Your toddler will have an easier time getting ready for school if they can match colors and shapes.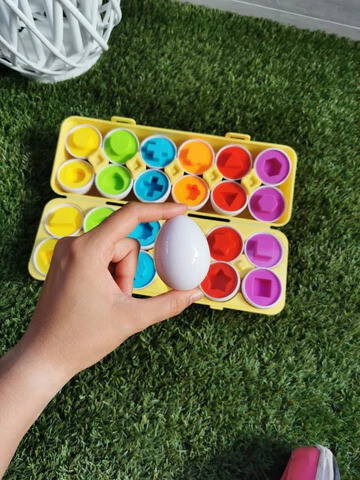 Hands On Activity
The eggs can be opened to reveal the matching shape inside, challenging children to match the correct shape to its corresponding egg.
It's one thing to say, "This is yellow" or "That is a triangle," but helping children understand the object or color in question requires them to actually hold it in their hands, examine it from every angle, and combine it with corresponding shapes. They learn geometry and the fundamentals of STEM education in this manner.
Graphic Cognitive Pairing 

The Smart Eggs™ toy can assist children in developing intellectual development, hand-eye coordination, and fine motor skills for close interaction and communication.
Educational & Fun Toy
Open all of the eggs, arrange them in
various patterns and colors for the kids to enjoy,
and then put them back in the sturdy box.
Smart minds can be easily developed with the right educational toys!
Made With High-Quality Materials
The Smart Eggs™ are built to last and are safe for children to play with. All of the pieces are made of high-quality, non-toxic, smooth plastic that doesn't contain BPA and is safe for baby's skin.
Each egg is the
right size & shape for little hands to hold and move.
The Smart Eggs™ encourage
solo play, making them a convenient addition to any home or classroom.
Perfect Gift for Children of All Ages
From babies to toddlers and beyond, the Smart Eggs™ encourage children to develop their cognitive abilities, hand-eye coordination, and fine motor skills through play.
Smart Eggs™ are a fantastic investment for any parent or educator looking for an educational and engaging toy for their child.
They offer endless possibilities for fun and learning and are sure to become a beloved addition to any child's toy collection.
Age: 1+
Size: 11.4in x 3.9in x 3.1in (29 x 10 x 8cm)
Material: BPA-free plastic
Don't look at this as a simple toy purchase. Look at this as an investment in your child's future. Get Yours Now!
View full details
It arrived in Canada very quickly. With this toy, we are having the most amazing time. I have previously purchased something comparable, but this is superior. I adore it!
My 3-year-old loves it. Same as in the description. Recommended.
Received it super fast. Thank you very much.